Lagos is Nigeria's relentlessly most competitive city and one of the most prolific cities where many brands have a strong presence. DongCheng Professional Power power tools brand begins a grand start in Africa's most populous country from this sophisticated city. Lagos experienced a week of roadshow specifically to showcase the industry-leading products from DongCheng Professional Power Tools organized by GZ Industrial Supplies.
The power tools industry will undergo a quality showdown with the arrival of this leading brand. The Lagos city roadshow lasted one week. The popular tools market in Lagos was visited by the roadshow team, Agaranrow, Aspanda, TradeFair complex, and Alaba international market all in Lagos.
DongCheng Lagos Brand Ambassador Emeka Ozor, in an interview, said: "The event was highly informative, fun, and memorable for our customers, and we were able to educate the public, especially the artisans in Agarawu market, Tradefair, Aspanda, Lekki and Ikeja on how to use this product. This show has also allowed our customers and admirers to buy this high-quality product at a promotional price."
He further said that participants could meet customers and prospects face to face beyond their familiar territory. "It allowed us to interact with artisans who have not had the time to visit our showroom."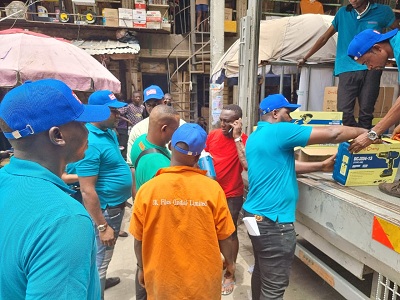 About DongCheng
Dong Cheng is a world-renowned brand in power tools and accessories. The world-class Dong Cheng products are manufactured at the state-of-the-art industrial complex. All the power tools produced by Dong Cheng have passed the China Compulsory Certificate (CCC) authentication. It is a company with a certified ISO 9001: 2008 QMS which helps quality assurance from the inspection of raw materials and components of high quality before leaving the factory. The products are known for their top quality, which refers to function, usability, appearance, efficiency, performance, maintainability, and, most importantly, affordability. The award-winning Dong Cheng products have been designed with great attention to detail, making the brand and its tools stand out.
About GZ Industrial Supplies Nigeria
GZ Industrial Limited is into supplies of industrial materials and is one of the homes of the most prominent direct marketers and premier distributors of industrial materials, Metalworking and Maintenance, Repair and Operations ("MRO") Supplies, Workshop Tools, Power Tools, and Accessories Lubricants, Chemicals, Cleaning and Maintenance Chemicals to industrial customers in Nigeria. GZ Supplies Nigeria employs one of the industry's most significant sales forces and distributes over 100,000 industrial products from over 100 suppliers to our growing list of customers. Looking for quality and long-lasting power tools and accessories, Contact the world of power tools- GZ Industrial Supplies Limited. Other locations to buy DongCheng Power tools are Tikweld.com and Epoxy Oilserv Store locations.
Recent Posts
Pressure testing is crucial to ensure a pressure vessel's proper operation and safety. A pressure te …

Epocoat road marking (Epocoat 410) is a one-component self-drying paint with various color pigments, …

In today's world, it's hard to imagine going a day without power. We rely on electricity-powered gad …