Vacuum lifters are used for moving heavy loads around. A vacuum lifter does this by sucking and creating a vacuum that aids in lifting and picking up the load before putting it down again. The need for vacuum lifters has increased in recent years because of the need to increase productivity and to easily move objects around. Vacuum lifters are often used when moving fragile items or goods to ensure they don't get misplaced or damaged during transport; where to purchase this machine will be highlighted in this content; stay tuned.
What are Vacuum lifters?
Vacuum lifters are lifting equipment that incorporates a vacuum as part of the lifting mechanism. They are driven by hydraulic, pneumatic, electric, or mechanical power, and they consist of a below-the-hook frame with a large vacuum pad or several smaller suction cups for grabbing large sheets, rolls, plates, or other smooth-surfaced products.
Features of Vacuum lifters
There are notable attributes of lifters that we will list. They include:
Lifters can carry loads either vertically or horizontally, depending on the application requirements for an operation.
Vacuum lifters are specially for handling rolls and coils.
Vacuum lifters are made with oversized lifting frames, vacuum pads, and vacuum stations designed to handle materials and products such as metal plates.
They are similar to electrically-powered devices but have a rechargeable cell unit.
Lifters are suitable for forklifts, excavators, and other end-effector heavy equipment.
GRABO Electric Vacuum Suction Cup Lifter GRABO PRO-Lifter 20, 16W , 0.1" (3mm)
Our Electric Vacuum Suction Cup Lifter GRABO Pro-Lifter 20 is equipped with a robust vacuum pump. The foam rubber vacuum seal on the GRABO Pro tool is strong and resistant to loss of vacuum pressure. Once the pressure pump is activated, it creates a strong suction and firmly attaches to any non-porous flat surface. The suction is strong enough to hold firm even loads as heavy as 375 lbs . In order to lift any slab of flat solid material, simply turn on the unit and place it straight on the surface. The GRABO Pro automatically monitors the vacuum and if vacuum pressure is lost the pump is automatically powered up until the vacuum pressure is restored.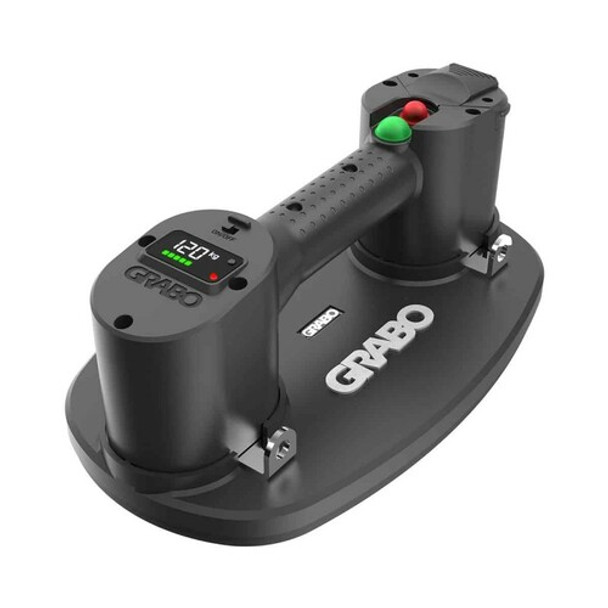 Buy online Electric Vacuum Suction Cup Lifter GRABO Pro-Lifter 20
The Electric Vacuum Suction Cup Lifter GRABO Pro-Lifter 20 is designed for professionals. Unlike the other gigantic solutions, the tool is portable and handy. Living up to the promise of "Heavy Lifting – Made Easy", the GRABO Pro is equally effective on smooth as well as coarse surfaces. The Pro-Lifter has a pumping capacity of 20 liters per minute, a best in class.
Model/SKU

GRABO PRO-LIFTER 20 / GP-1Li-FB

Battery

14.8VDC 2600mAh Li-ion

Rated Power

16W

Charger Input Voltage

100-240VAC 50/60Hz

Battery Charging Time

~2hrs

Non-Stop Running Time (Full Charge)

1.5hrs

Running Cycles (On Full Charge)

900 ON-OFF cycles of 10 seconds

Stand-by Mode (Charge Hold)

30 days

Pump Service Life

100000+ ON-OFF cycles / 800+ hrs continuous

Rated Air Flow

0.7cfm (20 L/min)

Maximum Vacuum Rate

11.6Psi (0.8 Bar, 80 kPa)

Maximum Lifting Capacity

375Lbs (170 kg)

L x W x H

11.77 x 7.22 x 4.76" (300 x 184 x 121 mm)

Net Weight (With Battery)

3.2Lbs ( 1.5 kg )

Working Temperature

32°F~140°F ( 0°~60 °C )

Applicable Surface Type

Peak/valley heights less than 0.1" (3mm),

arc less than 5°

Additional Features

Pump stops automatically at maximum vacuum

rate ( 11.6Psi / 0.8 Bar )
The need for Vacuum lifters
Vacuum lifters in hardware industrial processes provide an ergonomic working environment. They help to curb health problems related to lifting and moving heavy loads. They also provide support for crane systems. Vacuum lifters can operate using four different types of driving mechanisms: pneumatic, hydraulic, electric, or mechanical power. Pneumatic or air-powered vacuum lifters are equipped with air cylinders or motors that provide lifting action. Hydraulic vacuum lifts are driven by an external hydraulic cylinder or hydraulic motor. Electric-powered vacuum lifters have an electric motor and feature a screw/scissor combination. Mechanical or self-powered vacuum lifters that do not require electrical or compressed air service are also available.
The Vacuum lifters can help to boost productivity while offering an ergonomic solution to your material handling needs. They are effective in supporting, gripping, lifting, and lowering the load with single operator control. This operation is fast and smooth, making it ideal for repetitive handling tasks. Using suction feet allows components to be lifted without damage to the surface or edges of the products, often caused by manual lifts or grippers. This makes they are a cost-effective solution.
Where to Buy Vacuum lifters in Nigeria
Here are some of the notable locations across Nigeria where you can get a reliable vacuum lifter
GZ Industrial Supplies
This is a company whose existence is premised upon the need for distribution and supplies of industrial materials and is one of the homes of the largest direct marketers and premier distributors of industrial materials.
Sango Ota
GZ Industrial Supplies
Km 42 Lagos-Abeokuta Expressway,
Opposite Coronation Power and Gas Limited, Ado-Odo/Ota, Ogun State
Contacts Tell. +234 8181069339, +234 9055793557
Ogba
GZ Industrial Supplies Nigeria Ogba
77/79 Yaya Abatan By College Road Ogba Lagos State
Contacts Tell. +234 8181069339, +234 9055793557
WhatsApp: +234 9055793557 +234 8181069339
Calabar
30/32 Ndidem Usang Iso Road. Mariam Calabar 540242
Calabar
GZ Industrial Supplies Nigeria Calabar
Port Harcourt
GZ Industrial supplies Nigeria
238 Aba Road, by Fidelity Bank Rumuogba
Port Harcourt Rivers State.
Apapa.
GZ Industrial Supplies Apapa
Tikweld Welding Supplies and services
Tikweld welding supplies and services is a distributor and supplier of industrial products and welding consumables in Nigeria.
Port Harcourt
238 Aba Road Rumuogba
First floor Onyejieke Plaza
Lagos
Suit 10 Pine plaza
Suit 10 Olive Plaza Formerly Sebuf plaza Lekki Epe Expressway Lekki, 105102, By Osopa London. Lagos
Abuja
Shop 016, Zitel Plaza, Plot 227 P.O.W. Mafemi Cres, Utako 900108, Abuja
Call us 24 hours +234 8071993873 + 234 8071993874
Conclusion
The use of the vacuum lifter is ideal for industries that produce panels, boards, sheets, white goods, and door or glass windows. This material handling equipment can bear the burden of manual handling from the operator and will improve the health and safety of workers and reduce workplace injuries. Vacuum lifters are low maintenance equipment, and when they are serviced, downtime and disruption are reduced which improves production line efficiency. Contact us for the availability of vacuum lifters at any location in Nigeria.
Recent Posts
Tend Industrial Supplies LLC, a leading provider of industrial tools and supplies, announced the add …

Nigeria is amongst the world's leading producers of Cassava, making Agricultural processing machines …

The use of emergency and portable generators can be used to restore electric power to the home suppl …