Here is the audio of this Article
In this article, we will be highlighting the unique attribute of the DongCheng hammer drill and comparing it to a regular drill. Firstly let's educate ourselves more on what a hammer drill is and its function.
Understanding the regular hammer drill
There are hammer drills in the market that would definitely serve your purpose and most regular hammer drill are suitable for various DIY and construction work. One of the development in regular hammer drill to increase the productivity of engineers is the birth of the onboard work light that keeps you well illuminated as you work in dark and dimly lit areas which is present in the Dongcheng Hammer drill. The regular hammer drills are made with 18V battery as compared with the Dongcheng 20V battery capacity and most regular hammer drill can not be used as both a drill and a hammer drill but the Dongcheng hammer drill is built with a hammer mode and when it is turned off can be used as a drill.
A Hammer drill is known as a powerful tool that has been specially designed to drill on thick/hard materials such as wood and metals and also drive in screws with speed and ease. We can likely say it is a multifunctional tool because it can be used to drill and drive in screws. Many also call the hammer drill based on its work, such as the percussion drill due to the way it works by combining bit rotation with hammering action absolute pulverizes the material being performed on, you can bore masonry holes at least three times faster unlike when you use a regular drill. Hammer drills often can repeat their actions more than 30,000 times in a minute. Let's discuss further the following;
Table of contents
Introduction
Understanding the regular hammer drill
The significant uses of a Dongcheng Hammer drill
The best features of a Dongcheng Hammer drill
Available Dongcheng Hammer drill
Reasons why professional needs a hammer drill and not a regular drill
Conclusion
The Significant uses of a DongCheng Hammer drill.
Primary professionals such as electricians and plumbers use hammer drills virtually to drill pilot holes for masonry screws. To screw in easily, pilot holes need to be drilled accurately. When a project like wood-frame construction is done, it's often necessary to drill holes into concrete slabs, piers, and footings for the installation of metal anchors. And often, the holes are ½-in.-dia. Or larger. The best way to achieve a quicker and easier method is with a hammer drill. You must use the required drill bit recommended by the screw manufacturer to ensure the screws hold securely. A hammer drill has the capacity and speed to blast through concrete and whatever aggregate it may encounter, but never use it for a purpose other than its intended one.
The Best Features of a Dongcheng Hammer drill
Hammer drills are the ultimate tool for drilling into concrete. They are also great for anyone who needs to drill into brick or mortar joints between the bricks. Mortar is easier and softer to drill into than bricks, but screws and anchors will beat more securely into brick; the same option is suited for drilling into concrete-block walls.
Interestingly, when the hammer-drill mode is switched off, it can also be used as a standard cordless drill/driver for driving screws and drilling holes into a wide variety of materials. Yes, this is possible. When shopping for a hammer drill, here are some vital information to look out for before purchase Firstly, confirm that the hammer drill has a brushless motor.
The improvement of the Brushless motors is forever changing the way cordless power tools work, increasing run-time up to 50 percent per charge over standard brushed motors.
For maximum power and experience, it's very important to use a hammer drill using 20-volt lithium-ion batteries. Lithium ion batteries are also known for their durability and dependability when dealing with high-pressure routines.
Make sure you get two rechargeable batteries, and not just one, because as any electrical technician will tell you, sometimes things can go wrong, and when that happens, you don't want to have to wait for a new battery so have a backup plan on hand.
Ensure to check to see if the batteries have a gauge that conveniently shows the remaining charge.
Another helpful feature is an onboard work light that keeps you well illuminated as you work in dark and dimly lit areas. LED lights are ideal for this type of task - they are affordable, lightweight, and have a long lifetime
DongCheng Hammer Drill 600W, 26mm DZC05-26
Rated Power Input: 800W
Impact Energy: 2.6J
No load speed: 0-1200r/min
Rated Impact Frequency: 0-4000/min
Max drilling Capacity: concrete 26mm
Weight: 2.93kg
DongCheng Cordless Brushless Driver/Hammer Drill 13mm 20V/4Ah DCJZ05-13EM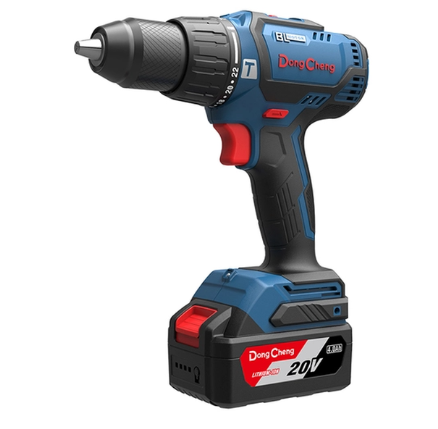 No load Speed: 1st gear:0-550r/min
2nd gear:0-2000r/min
Max. Chucking Capacity:13mm
Max. Screw Dia.:10mm
Max, Drilling Dia.:Steel: φ 13mm
Brick Wall: φ13mm
Wood:φ 38mm
Torque Setting: 22+2
Max. Torque: 60N.m
Motor: Brushless Motor
3 functions: Drill / screwdriver/ impact drill
2pcs 4.0Ah Battery + 1pcs Charger
Plastic Case Packing
Rubber over-molded handgrip
Carrying case for tools and accessories
/2″ keyless chuck
20 or more clutch settings
Two-speed motor
Belt clip
Reasons why professional needs a Hammer drill and not a regular drill.
Modern drills and hammer drills have clutch settings and drill settings. When you look at a hammer drill, there's an additional mode you can switch into that is called the Hammer Mode. In making a hammer drill, most manufacturers start with a drill driver and add a hammer mechanism behind the chuck. In most cases, it adds a small amount to the overall length and a few ounces to the overall weight. There possess a lot of similarities that you may not tell the difference when comparing side to side.
Some models have the mode changes separate from the clutch collar, and others keep them all on one collar. The hammer mode is almost always right next to the drill mode. Even on hammer drills with electronic settings, the clutch, modes, and gearbox are still mechanical switches and collars on the head.
When it comes to drilling into concrete and masonry, one should always use a hammer drill to take advantage of the reverse action of its mechanism. It's possible to drill without it and still make good progress. In our testing, hammer drills run about 25% faster on average.
Conclusion
Ultimately, while a hammer drill can be used as a regular drill by putting it in "drill" mode, it has some limitations, and a complete tool inventory should ideally include both. However, if you're only going to buy one drill, a hammer drill is the more versatile. Contact our expert for more inquiries on hammer drill
Recent Posts
Epoxy Oilserv Unveils LubeMax High-temperature Multipurpose Lithium GreaseLubemax High-Temperature m …

The importance of using storage shelves and rack systems in various sectors is increasing day by day …

Industrial gases are gaseous materials that comprise elements, molecular compounds, or mixtures prod …