Here is the audio of this Article
The need for an infrared thermometer that reads accurate temperature is essential for newborns and infants because a small temperature change can make a very big difference, Fever often indicates an illness and may indicate its severity depending on the patient's symptoms especially if they're younger than five years old! If you are a new parent, have a young child, or are a pediatrician, one of the common conditions that you might see in your practice is elevated body temperature. It is essential to have a reliable infrared thermometer for babies because it acts as a trusted guide to measure the child's temperature and record the temperature spikes and research shows that infrared thermometers just like other thermometer are less invasive.
The infrared thermometer assists in a better medical diagnosis and the no-touch forehead thermometer is designed to use an infrared scanner for reading the temporal artery temperature on your forehead. This takes your temperature quickly and accurately, and there won't be a need to wait for an underarm reading or put anything in your mouth or ear. Infrared thermometers can be used on a person of any age, including newborns.
Table of content
What is an infrared thermometer
Types of infrared thermometers for babies
What is the most accurate thermometer for Infant
Choosing the best baby Thermometer
Medical use of Infrared Thermometer
How to use the infrared thermometer properly
Advantages of using infrared thermometer for babies
Frequently asked Questions
Conclusion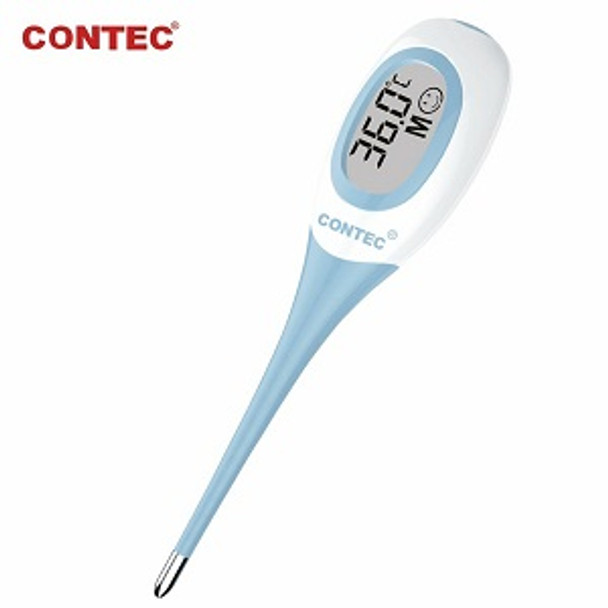 Buy online CONTEC HK-908 Digital Thermometer
What is an infrared thermometer?
An infrared thermometer is a sensor consisting of a lens to focus the infrared energy on to a detector, which then converts the energy to an electrical signal that can be displayed in temperature units after being compensated for ambient temperature variation.
An infrared thermometer is designed to infer temperature from a portion of the thermal radiation, sometimes called black-body radiation, emitted by the object being measured. Infrared thermometers are a subset of "thermal radiation thermometers" devices. They are sometimes called laser thermometers which are often used to help aim the thermometer, or non-contact thermometers or temperature guns, to describe the device's ability to measure temperature from a distance.
Infrared thermometers for children cost more than other thermometers, and they may also be less accurate depending on the surrounding conditions. Things that may impact an infrared reading are:
Direct sunlight
Colder surroundings
Sweaty forehead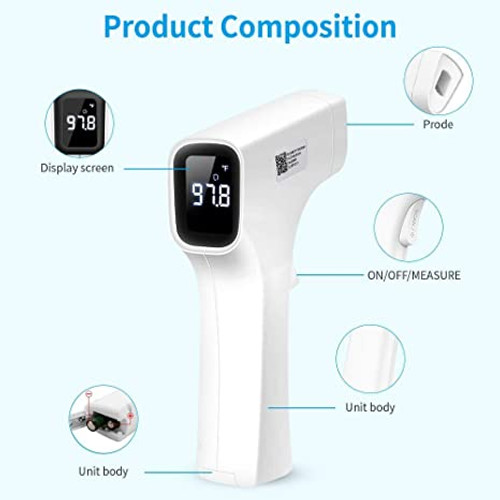 Buy online Non-Contact Infrared Thermometer BBLove
Types of infrared thermometers for Babies
There are many types of thermometers available for temperature readings. An accurate temperature reading is essential for newborns and infants. A small temperature change can make a big difference. Research shows infrared thermometers are as precise as other thermometers while less invasive.
1. Rectal thermometers:
"The AAP recommends the rectal thermometer in newborns and kids up to 3 years of age because research shows they are the most accurate and measure the core body temperature the best," says Dr. Lee.
2. Ear and forehead thermometers:
This thermometer is conveniently placed against your baby's forehead or in her ear and is easier to use than a rectal thermometer but not as accurate. You can keep one in your house and use it to get a quick reading, but this thermometer needs to be followed up with a rectal reading.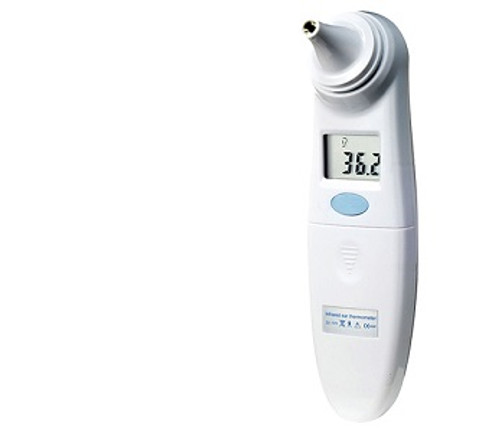 Buy online Infrared Ear Thermometer EET-1(BT) Contec
3. Oral thermometers:
When kids have the ability to cooperate around 3 or 4 years old, then parents can conveniently use oral thermometers, which are placed under your child's tongue. "The only downside is that the child has to keep the thermometer under their tongue for around a minute, so if this isn't possible, parents may not get an accurate reading.
4. Axillary thermometers:
This is called underarm thermometers; they are placed against the skin in the armpit and generally work best in toddlers that have the ability to cooperate and hold the thermometer in place without moving until the thermometer beeps. However, per the AAP, it is the least accurate temperature-taking method.
What's the most accurate thermometer for infants?
Recent studies have shown that an infrared thermometer is just as accurate for taking a newborn's temperature, and over a seven-day study of newborns, there was not a notable difference between infrared and axillary temperature readings.
Sometimes thermometers are multi-functional, meaning they could work as rectal, oral, or armpit readers but never use any thermometer that has been used rectally for anything else. The AAP suggests having multiple thermometers and labeling them "rectal" and "oral" so you easily differentiate them.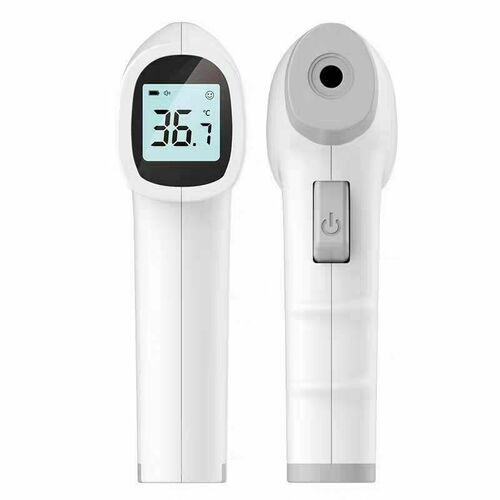 Buy online Infrared Thermometer TP500 CONTEC
Choosing the best baby thermometer
Here are a few features you may want to look for when shopping for a baby thermometer:
1. Digital readings:
Digital thermometers are the most accurate though the AAP advises against using mercury thermometers, as mercury is an environmental toxin and can be especially dangerous if the thermometer breaks.
2. Flexible tip:
This feature provides more comfort for the baby when you insert a rectal thermometer.
3. Wide base:
If a rectal thermometer has a wide base, you'll have an easier time gripping the base as you're inserting it.
4. Backlit display:
This can make the thermometer easy to read when checking a baby's temperature in a dark nursery.
5. Talking thermometer:
A baby thermometer that is designed to read you the temperature will be definitely helpful in the middle of the night and suitable for people with impaired vision as well.
6. Memory:
This high-tech feature can help you keep track of your baby's temperatures so you can track any trends.
7. Battery type and cover:
Electronic thermometers may contain button cell batteries, which small children can unintentionally swallow, so make sure battery covers are secure.
Medical Use of Infrared Thermometer
Body temperature can be measured in several ways. Traditionally, body temperature has been measured using contact thermometers placed on the forehead, mouth, ear, armpit, or rectum. For children, in particular, rectal temperature measurement is often considered to be the gold standard. Non-contact thermometers allow a person's temperature to be taken with minimal (tympanic) or no (Non-contact infrared thermometer [NCIT], thermal scanner) contact with the person, which means the temperature can be measured without the discomfort of having to sit still with a thermometer in the mouth, armpit, or rectum long enough to obtain a correct temperature reading. The lack of contact also means the disinfection process between patients for the thermometers is minimal or unnecessary, allowing for easier and faster use when screening large numbers of people in settings like airports or border crossings.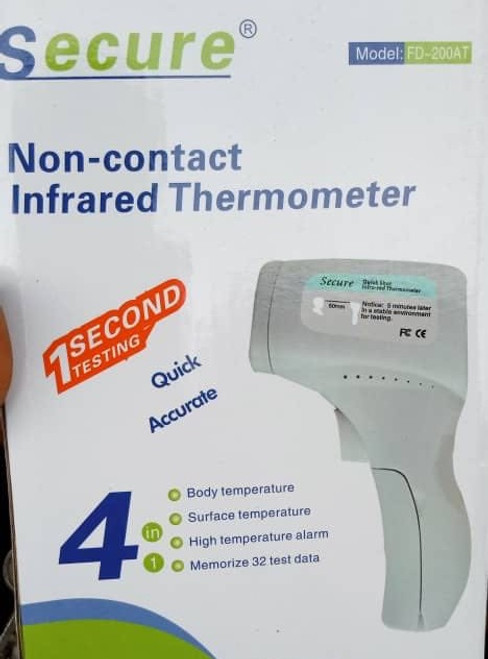 Buy online Non-contact Infrared Thermometer FD-200AT Secure
How to use these infrared thermometers properly
Always make sure that the thermometer's sensor is clean and dry.
Hold the thermometer sensor area perpendicular to the forehead of the person.
Bring the thermometer within the manufacturer's recommended measuring distance (2 to 5 cm).
Press the measurement button on the thermometer to take the reading.
Advantages of using infrared thermometers for babies
Infrared thermometers have the following advantages
1.They are easy to read compared to mercury
The infrared thermometer has a digital display screen, which displays the temperature reading in large numbers. It is therefore easy to read the temperature, even if the thermometer is used in a darkened room. The conventional thermometers are not easy to read, unlike the infrared thermometers; you need to jiggle them around to read.
2. It is very hygienic.
Because infrared thermometers do not come into contact with the skin, the risk of cross infection is minimized. There is no need to keep separate thermometers for keeping separate thermometers for each person.
3.Very convenient to use
The infrared thermometer can be used at any time on any person, even if they are asleep, and the thermometer needs to be held a few centimeters away from the forehead. This is always easy, even when the patient is asleep in bed; no need to find a special position for the thermometer – just point it at the forehead from a distance of between 3 and 5 centimeters.
4.Stress-free for both the patient and caregiver
Infrared thermometers are a no-contact, so they will not cause further stress to a sick person. And as the caregiver does not have to worry about placing the thermometer in a particular place to get an accurate temperature measurement, it is simple for anyone to use.
Frequently asked questions
1. Are infrared thermometers accurate?
Infrared thermometers offer the same accuracy and reliability level as rectal or oral thermometers. Though the accuracy totally depends on how and where you use these thermometers.
2. Are infrared thermometers safe?
Clinical infrared thermometers are safe for everyone - babies, children, and adults but avoid pointing the laser beam into their eyes. These non-contact devices also allow measuring the temperature of humans from a safe distance.
3. What temperatures do infrared thermometers measure?
The temperature measurement range of infrared thermometers varies according to their type. Clinical IR thermometers for body surface temperature typically have higher accuracy (± 0.1°C) and can measure temperature in 32–42°C. Industrial IR thermometers, on the contrary, have an extensive temperature range, usually between -50°C and 1000°C.
4. How do you check an infant's temperature?
It is advised that if your child has been eating or drinking, wait 15 minutes to take his or her temperature by mouth. To do this, simply place the thermometer's tip under your child's tongue toward the back of the mouth and ask your child to keep his or her lips closed; gently remove the thermometer when it signals that it's done and read the number.
Conclusion
For convenience, infrared thermometers are best for babies because you can use them anytime and even when the baby is sleeping, unlike the conventional thermometers that need the baby to stay still to check his/her temperature. Contact our medical expert to learn more about the infrared thermometer for babies.
Recent Posts
Structural steel serves as the backbone of buildings and infrastructure, providing strength, stabili …

Must-have automotive air tools for different tasksDiscover the must-have automotive air tools for va …

As an engineer or architect, you rely on structural steel for many applications. Steel's strength, d …