Recently, there has been a high demand for cleaning appliances like Vacuum cleaners, which led to the discovery of mind-blowing brands like Karcher, Kaida, and Dongcheng, etc. The Dongcheng Vacuum cleaner is one of the best choice of a vacuum cleaner which makes a big difference in executing various industrial activities like cleaning dirt and debris during 3D Epoxy flooring Installation and construction dirt.
The need for Vacuum cleaners has been a necessity because of their effectiveness in cleaning drought-prone environments like Nigeria. Vacuum cleaners domestically aid in reducing allergens in your home or office by finding their way deep into the carpet to remove Dandruff, dead skin, and mites. To ensure quality cleaning, Understanding how to select the best industrial vacuum cleaner, how to use your desired vacuum cleaner, and a guide to the best maintenance practices will make it easier for you to achieve a cleaner environment. Learn more as we bring you the best Industrial Vacuum cleaners in Nigeria 2024.
1. Karcher Vacuum cleaner 1000watt WD2
The Karcher WD Vacuum Cleaner is an incredible machine that will remove any dirt permanently and is also energy efficient. The suction hose and floor nozzle have been newly developed to ensure no dirt is left behind. It features a unique filter system and special accessories for optimal cleaning around the home. The WD 3 Premium has a detachable handle that allows you to attach accessories directly to the suction hose. You can park the suction tube and floor nozzle conveniently when you need a break. The "Pull & Push" locking system, ergonomic carrying handle, and cable and accessory storage system make it easy to use and store. With a very low power consumption of 1,000 watts and, at the same time, high suction power, the WD 2 Home multi-purpose vacuum cleaner is the ideal vacuum cleaner for household use.
Top offers
N 75,000.00
The Karcher WD Vacuum Cleaner
Technical Specification of Karcher WD Vacuum Cleaner
Actual suction power* (Air watts): 200
Energy use (W): 1000
Container capacity (l): 17
Container material plastic
Standard accessory ID (mm): 35
Current type (V/Hz): 220 - 240 / 50 - 60
Weight without accessories (kg):5.5
Dimensions (L × W × H) (mm): 388 x 340 x 503
2. Kaida Dry Amphibious Vacuum Cleaner 3600w KDG20
Looking for an industrial vacuum cleaner that can tackle wet and dry messes? Look further than the Kaida Wet and Dry Industrial Vacuum Cleaner 3.6Kw KDG20. This powerful vacuum cleaner is perfect for indoor and outdoor use, making it ideal for cleaning up spills, removing water from blocked sinks, or cleaning up around the home or shed after renovations or DIY projects.
The Kaida KDG20 wet and dry vacuum cleaner is a versatile machine perfect for daily cleaning in shopping malls, supermarkets, and other large commercial areas. The easy clean stainless steel tank and water drainage outlet make it easy to use and maintain, while the space-saving accessory mount and carry handle make it easy to move around. The castors provide greater mobility, and the cable bracket keeps cords tidy and organized when not in use.
Top offers
N2,102,198.56
B

uy online Kaida wet and dry Amphibious vacuum cleaner
Technical Specifications of Kaida wet and dry Amphibious Vacuum Cleaner 3.6Kw KDG20
Brand: Kaida
Colour: Red & GreyPower: 3.6Kw
Air Flow: 540m3/H
Bar: 200m
Learn more:
3. DongCheng-Vacuum Cleaner-DVC15
This DongCheng-Vacuum Cleaner-DVC15 comes with Dust Cleaning Brush, Water Cleaning Brush, Sofa Cleaning Piece, Flat Suction Nozzle, Round Brush, Telescope Steel Pipe Vacuum Hose, Long Joint Steel Pipe, Hose Connection Assembly, and Carbon Packing.

The DongCheng Company strives to provide users worldwide with good quality products and satisfying services. Our power tools and related spare parts are widely used in building construction, home decoration, the stone industry, shipbuilding, and water conservancy projects. Our sales network extends to more than 60 countries and regions.
Top offers
N69,133.65
Buy online Vacuum cleaner DVC15
Specification of DongCheng Vacuum Cleaner-DVC15
Rated Power Input: 1200W
Capacity: 15L
Cooling System: Recycle
Net weight: 7.6kg
Wet/Dry HEPA Filter
The Best Vacuum cleaner of 2024 Prices
The price of a vacuum cleaner just like other equipment depends on the capacity(Watt). Find below the best industrial vacuum cleaner in Nigeria and their best prices ranging from 1000-3600W.
| | |
| --- | --- |
| Vacuum cleaners | Prices(N) |
| 1. Karcher Vacuum cleaner 1000watt WD2 | 75,000.00 |
| 2. Kaida Dry Amphibious Vacuum Cleaner 3600W KDG20 | 2,102,198.56 |
| 3. DongCheng Vacuum Cleaner 1200W DVC15 | 69,133.65 |
6 Vacuum cleaner Maintenance Tips
This is the perfect time to vacuum and get your home in order. You can do this by servicing your vacuum cleaner and ensuring it's in good working condition. To do this, you'll need to check the ducting and bristle length, replace belts and filters, and test it out. Our Vacuum Service & Maintenance team is fast and moderately priced if you're not into do-it-yourself projects. Your vacuum cleaner needs to be properly maintained to function correctly and prevent any damage from happening to the motor, brush roll filters, and carpeting. Periodic maintenance of your vacuum keeps it running at peak performance, whereas repairs usually result from poor vacuum maintenance.
1. Change Your Vacuum's Belt
Over time, most styles of vacuum cleaner belts will inevitably stretch and wear out - slowing down the roller brush or causing it to not spin at all. To keep your vacuum running smoothly, we recommend changing the belt at least once a year.
2. Clean the Roller Brush of Your Vacuum
Hair and strings can quickly ruin a vacuum roller and bristles, causing the belts to stretch and lose agitation. They can also work their way into the bearings, causing Bearing failure, one of the most common causes of vacuum cleaner damage. Seized or melted bearings can cause serious damage to the vacuum cleaner and, in some cases, destroy it completely.
3. Replace the Vacuum Bag When Full
If your vacuum cleaner has a "full indicator" light, monitor its performance. A vacuum bag must be replaced when the "full indicator" light comes on or when it is 70-80% full.
4. Keep Vacuum Filters Clean
If you have a bagless vacuum cleaning your filters frequently is essential to the health and longevity of the machine. If they are washable, it is the average for most users every three months when that should be done. Heavy use every six months, pet owners every year, and light use every 2-3 years is recommended. Some filters need to be replaced.
5. Keep Watch On Your Vacuum's Performance
Frequently we see burnt-out vacuum motors because machines were run long after they were clogged up. Clogs block airflow and overheat vacuum motors. A little thing like a bobby pin can create a clog and destroy even a new vacuum if not equipped with safety shutoffs.
6. Properly Adjust Nozzle Height
Vacuum cleaners rely on a strong flow of air to function properly. If the vacuum's nozzle is buried in the carpet on the lowest setting, there is no airflow, and you could damage your carpet. Adjust your vacuum's height setting to be high, then lower it to the point where you can just hear the bristles making contact with the carpet. Once it's at that point, don't lower it any further. This will allow for peak performance and a long belt life and prevent damage to the carpeting.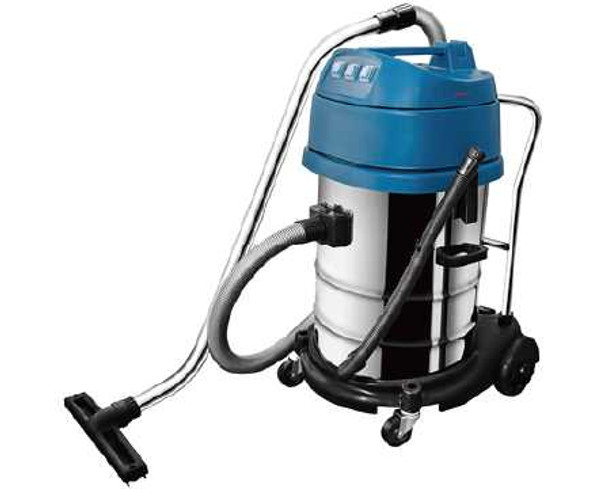 Buy Online... DongCheng-Vacuum Cleaner-DVC80
Frequently Asked Questions
1. What is the best watt for a vacuum cleaner?
It depends on your vacuum cleaner's model, design, and quality. Upright vacuums need around 100 air watts, while cylinder vacuums need about 220 air watts.
2. How long can a vacuum last?
There are some vacuum cleaners that reportedly last up to 10 years, but this lifespan can vary depending on the brand and how you, as a consumer, use it.
3. Can a vacuum cleaner be used daily?
How often you need to vacuum your home depends on a few factors. For most homes, vacuuming once or twice a week should suffice. However, if you have household pets, they shed more often than once a week and will likely require you to vacuum more often. Additionally, some areas of your home - like high-traffic areas - may also require vacuuming more than once a week.
4. Is it worth buying a vacuum cleaner?
Yes, it is! Vacuum cleaners are essential for cleaning dirt and dust in any home. Their functionality includes improving air quality, cleaning floors effectively, and reducing allergic reactions. So if you want to create a clean and healthy living space, investing in a wet and dry vacuum cleaner is a must.
Conclusion
The vacuum cleaner is functional and is a must-have cleaning device for any home and commercial space; it comes in various sizes, prices, styles, and qualities. Now that you can choose the best one for your need and compare vacuum cleaner prices in Nigeria, a more dirt-free environment will be achieved. The Karcher, Kaida, and Dongcheng brand has come to stay in the Nigeria Market. These brands are amongst the most trusted and reliable with their quality and originality; thus, introducing the best industrial vacuum cleaner in Nigeria will make cleaning more accessible and enjoyable. Visit us today to see different varieties of vacuum cleaners.
Readers also like...
How to use a Floor scrubber for cleaning
Recent Posts
Are you a beginner looking to delve into the world of welding? We've got you covered! In this compre …

In today's fast-paced world, where uninterrupted power supply is crucial, a home inverter syste …

In the world of welding, inverter welders have emerged as a game-changer, revolutionizing the way pr …