The importance of using storage shelves and rack systems in various sectors is increasing day by day for the correct stocking and storage of produced or manufactured products. Shelving systems must be selected correctly to store products according to the production date or expiry date. Storage shelves are used in areas like industrial spaces, offices, homes, and commercial places.
Storage and shelving system is some of the most basic requirements that every sector needs. Storage and shelf system is an elements that should not be neglected. If the products are not stored correctly, the life of the products may be shortened. In this case, it may cause serious financial damage to the producer. Another factor in storage is the use of the right shelving system.
Tikweld welding supplies and services will enable you to find the right shelves for your products/goods, with these shelf systems, you have the opportunity to save both time and space. Height can be evaluated for storage in narrow spaces. When the number of people is low, smart shelf systems can be preferred to reduce the workload. There are many more types of racks like this one. Each type of shelf has great benefits for its users. In short, storage systems will not only expand your usage areas but also provide your employees with easy access, easy viewing of product stocks, and fast shipping.
The importance of storage shelves is highlighted below;
1. Uses of storage shelves in Industrial spaces
a) Heavy-Duty Storage
Industrial steel shelving can house heavy-duty, bulky items in warehouses, fulfillment centers, and other industrial spaces. Whether your facility regularly handles machinery components, tools, or building materials, enduring metal shelving solutions are needed to store your heaviest items.
Unlike standard units with plastic or wood shelves, a heavy-duty storage shelving unit with metal shelves can typically sustain much heavier weights. This extra-weight capacity allows for more efficient use of your facility's storage space.
Overloading lightweight shelving can be a major safety hazard, posing a threat to warehouse handlers as well as inventory. While it's important to consider product size when choosing shelving units and storage equipment, you must also focus on loading capacity per shelf.
2. Uses of Storage Shelves in Homes
a) Organize your kitchen
If you usually prefer to buy groceries and household items in bulk, you will want to store them properly while keeping them accessible. And for that, the use of storage shelves is the best way to store your supplies of food and other household materials. You can also use them to keep the large pots and pans that you only use when you cook big batches of food.
b) Keep your seasonal items tucked away.
If you find yourself buying new decorations yearly because your old ones have been destroyed due to poor safekeeping, then maybe it's high time to invest in quality storage shelves. Storage shelves allow you to keep your Halloween or Christmas decorations safe and tucked away until the next holiday season.
c) Ensure that everything in your home is organized
When you have enough shelves in your home, you have a chance to ensure that every belonging you have has a home where you can put them back after each use.
For instance, you have a child, and they have accumulated a lot of toys growing up. Having a storage shelf where you can place most of these toys is perfect for keeping their toys away. Another example is that if you have a growing collection of plants and want to organize them neatly indoors, you can use a storage shelf as a display rack and organizer.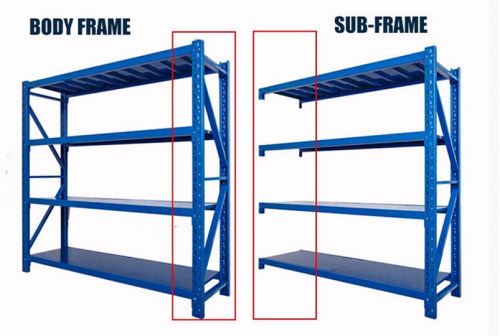 The Industrial shelve
3. Uses of Storage Shelves in Commercial Spaces
There will always be a need for you to get your hands on storage shelves, whether your office, store, or warehouse is big or small.
a) Store your industrial supplies.
If your business nature is meant to meet supply and demand, having storage racks enables you to keep your supplies organized and keep the staff handling and monitoring these supplies organized. Inventory becomes a breeze, and you will also have no problem storing heavy items and making room for more.
b) Secure your business documents.
Most businesses have crucial documents they need to secure while ensuring that they are accessible when needed. Establishments such as banks and universities are easily burdened with the many paper documents submitted by their clients. With storage shelves, they can easily tuck these documents away while ensuring they can access them easily during operations.
c) Keep food fresh and safe for eating.
Do you run a restaurant? Then you might already know how vital storage shelves are in storing inventories of food supplies. Commercial kitchens greatly benefit from storage shelves to keep both frozen and fresh food for extended periods. Using these shelves to store restaurant kitchen supplies is also the best solution to make these supplies accessible to the kitchen staff.
d) Serve as display racks in the retail setting.
In a domestic setting, you can use storage shelves for display purposes. This idea is also applicable in the retail industry. Using storage shelves in retail allows vendors to meet the weight and ventilation needs of the items they sell. It also makes the items look presentable, which is a plus point for visual merchandising.
e)Serve as a versatile storage solution for general use.
Storage shelves provide versatile storage solutions. They can be used to organize smaller organizer items, like bins and baskets, further maximizing their space and function. This specific way of using storage shelves makes them useful in commercial settings, such as repair shops, hotel laundry rooms, and businesses involving a backroom organization.
f) Storing Smaller Items
Distribution warehouses may be responsible for handling smaller items or parts. These items are at a higher risk of getting misplaced, particularly if the smaller parts are used for assembly within the warehouse. Further, smaller items can include physical copies of documents that need to be stored due to legal reasons. These documents can start to take up a whole lot of space. Shelves for archive storage are among the most useful industrial storage solutions for storing small items and documents that need to be easily accessed or moved around.
How to choose the right shelve
1. You have to assess the available space, whether it is the floor or an entire wall. In most cases, shelving can be accommodated anywhere unless the space is specified.
2. Analyze the depth, width, and length for proper and precise measurements. These measurements will be the deciding factor for the overall shelving unit.
3. The material is also a major concern when it comes to shelving units and is dependent upon its purpose. The material needs to be strong for high-density storage and vice-versa. Glass, wood, plastic, or metals can be chosen for shelving.
4. Decide on the material for your shelving unit. You have several options to choose from for your shelving unit. If you need a shelving unit for your warehouse, then you can have it in metal. If you need a shelving unit for your office, then you can opt for wood shelving.
Frequently Asked Questions on Storage Shelves
1. What is the purpose of storage rack?
It is used for short- or long-term placement of materials, products and loads in a facility, storage racks hold items in an organized area.
2.

What is the importance of a rack at home?
The storage racks help you to organize the household items, Hence, saving the floor space. You can put all the office items and the household items vertically and utilize the horizontal office place in a much better way than before. You can take the household items down whenever you need them.
3. Where should heavy items be stored on shelves?
Always place heavier loads on lower or middle levels of heavy-duty storage shelves. Store long and heavy items on their side to prevent the risk of tipping. Label all heavy storage items so materials can be more quickly located. Keep heavier items properly tucked away for safe retrieval and transportation.
4. What is shelving as a storage system?
Whether it is a cabinet shelf storing books or an industrial shelf storing tools. The use of industrial shelving is a great option in warehouses and workshops. In the main, the use of shelving systems is to store items accessible by hand
Conclusion
In this content we have highlighted the importance of shelves used in various industries, warehouses, homes, and schools for the purpose of having an organized workspace which also saves time. At Tikweld welding supplies and services, we understand that your intentions for your shelving units won't be the same as those of our other clients, so whether you're looking to fabricate a storage shelve for the storage of heavy automotive parts, Tikweld Storage can help you find the right products and storage system to make it happen.
You can contact us for your shelves and all commercial storage shelves to suit your storage needs.
Recent Posts
Tend Industrial Supplies LLC, a leading provider of industrial tools and supplies, announced the add …

Nigeria is amongst the world's leading producers of Cassava, making Agricultural processing machines …

The use of emergency and portable generators can be used to restore electric power to the home suppl …